I bought it to protect the environment... Betrayal of tumblers · eco bags
College student, Cho (25), has an interesting hobby: collecting tumblers and eco bags. She began to collect one by one in the purpose of protecting the environment, and it developed into a sort of collection. "These two things are good for the environment, and they give me satisfaction because they are meaningful," she said.
There are now many people who are interested in the garbage issue since influenced by the "garbage storm." Now, it is no longer an unfamiliar sight of people taking out an eco bag that was stored in the corner or washing a tumbler before going to a cafe.
In April last year, there was a recycling garbage crisis, mainly in the metropolitan apartment buildings. Some private recycling companies informed that they will stop collecting waste plastic and styrofoam because of the increased costs of recycling. The Ministry of Environment persuaded the collection companies to solve the problem, but the root cause was not resolved.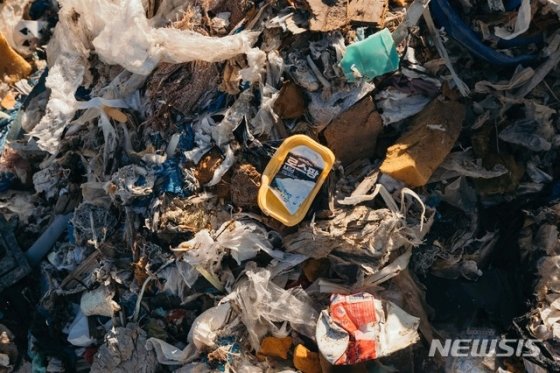 On December 10, last year, Greenpeace unveiled pictures of plastic waste illegally exported to the Philippines by Korean companies. Greenpeace said, "The 6,500 tons of plastic waste that was illegally exported in Korea was divided into two, 5,100 tons were left in the Verdeseoko site of Misamis Oriental, and 1,400 tons of other waste was seized in 51 containers at Misamis Oriental Terminal." October 10, 2018. (Greenpeace)
Since then, there has been a growing awareness that people should reduce waste. In October last year, Embrain Trend Monitor released 'Survey on Environmental Societal Perceptions and Concerns' for 1,000 men and women aged 19 ~ 59 years old nationwide after the 'garbage storm.' The result showed that 72.1% of the respondents think "the garbage problem is frightening."
This awareness has changed the citizens. Respondents are taking action to protect the environment voluntarily through 40.6% of the time, 40.1% of disposable items, 37.1% of disposable items, 35.1% of plastic bags, 33.3% of mugs, and 30.1% of tumbler.
Tumbler use, sales increased significantly... Is it good for the environment?
The actual use of tumblers and sales volume increased significantly, and the use of disposable cups was greatly reduced. "A lot of garbage has been shrunk because of the use of disposable cups in the store," said a café official in Seoul's Jongno-gu district. "Usually, one big garbage bag was filled with disposable cups every end of the day, but these days it takes 2 full days to fill a garbage bag with disposable cups" he said.
Another franchise café, Mr. B, said, "The use of disposable cups has been reduced to less than half. About 30% of all the garbage to be discarded in a day was a disposable cup, but now it is not even 10%."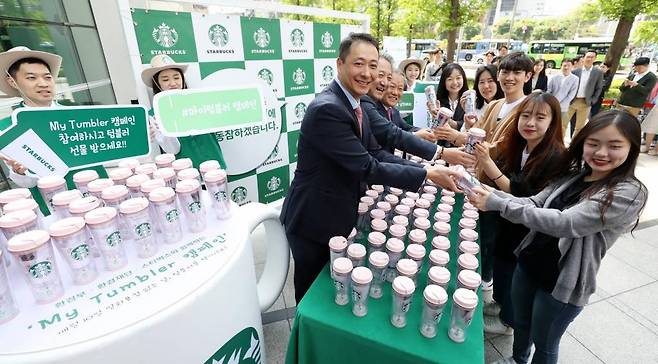 Citizens received a tumbler on May 8 at Jongno-gu, Seoul, Jongno Tower Starbucks in front of an open 'My Tumbler' campaign event. 2019.05.08. (Newsis)
Meanwhile, tumbler sales increased. According to Lock & Lock, a comprehensive household goods company, domestic tumbler sales volume doubled in the same period in 2017 from August to December last year, when the disposable cup regulation was implemented in earnest.
Mr. B said, "There have been a lot of customers using tumblers," he said. "We did not see a single customer bring it before, but now we have at least five customers a day using tumblers."
The problem is that you have to use the tumbler for a long time to protect the environment. If you buy several tumblers or buy one and don't use it, you will cause an effect of destroying the environment. The tumbler produced to replace disposable cups emits more greenhouse gases than disposable cups.
According to a study by the Institute for Life Cycle Energy Analysis, a tumbler should be used for at least 15 times for glass material tumblers, 17 for plastic materials, and at least 39 times for ceramic materials to make a better use than disposable paper cups.
Sadly, the truth is not ideal. Park, a 26-year-old graduate student, said, "I think there are more than 10 tumblers in my house that I either bought or received as a gift. I did not think it was bad for the environment," he added.
Eco bags that have been neglected several times are worse than plastic bags
The eco bag is also the same. If you do not use an eco bag frequently after purchasing one, it will adversely affect the environment more than using a plastic bag.
According to the 'Life Cycle Assessment' study by the UK Environment Agency in 2011, the environment is adversely affected by plastic bags (high density polyethylene · HDPE), paper bags, and cotton-backed eco bags. Considering the amount of carbon produced in the production of each product, the paper bag should be reused more than 3 times than the plastic bag to protect the environment, and the cotton material eco bag should be reused 131 times in comparison with the plastic bag to protect the environment.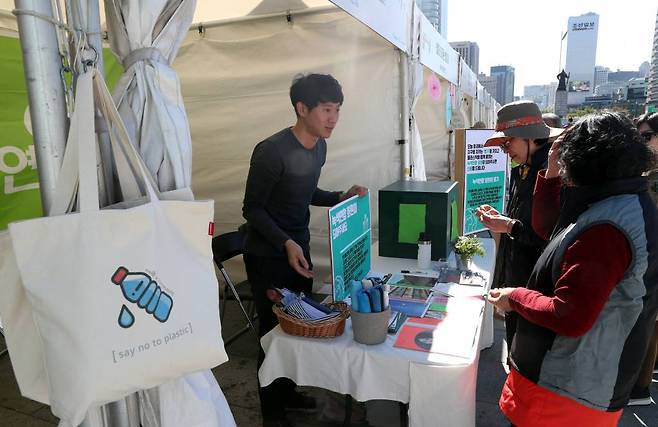 Citizens looked into eco bags at a Seoul event that does not use disposable plastic with residents in Gwanghwamun Square, Jongno-gu, Seoul, on October 19 last year. October 20, 2018. (Newsis)
The Danish Ministry of Environment and Food has recently announced similar results. The result proved that a cotton eco bag should be reused 7100 times considering the adverse effects of plastic bags (low density polyethylene, LDPE) on the environment. Even eco bags made from organic cotton should be reused 20,000 times.
As a result, the Danish Environment and Food Department concluded that it is better to reuse the plastic bags from the supermarkets as much as possible and then to recycle them if they are no longer available. However, they added that the study is based on global warming, and that plastic bags are the worst when considering the impact on marine ecosystems.
The US online media 'Quartz' also affirmed that it is important to reuse- whether it is a plastic bag or a cotton-backed eco bag. A way to save the environment is to reuse plastic bags several times until they can not be used, and use the eco bags on daily basis.
Regarding this, the director of the Society for the Promotion of Socio-Economic Research of the Flood and Heat Resource said, "The essence was to reduce environmental pollution caused by waste of resources."
Hong said, "The abuse of tumbler or eco bag and the use of multi-container containers as disposable products can unfavorably affect the environment. Therefore, it should be requisite to use only one tumbler and one eco bag for years." He added, "You can even lend tumblers or eco bags that you do not use often to local residents in markets, marts, cafes, etc. to be resourceful of what you have got."
source: Lee Jae Eun reporter (Daum) jennylee11@mt.co.kr